James N. Leary plans to build on the past to improve Carroll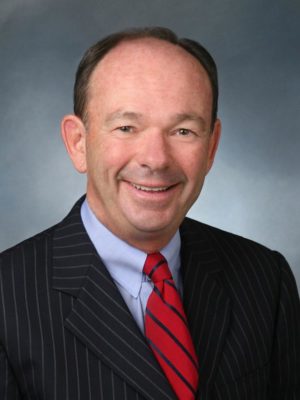 James Nelson Leary, Archbishop Carroll's acting president, wants to build on the past to improve the school now and in the future.
"I am a big believer in finding ways to build on what others have created over the last fifty-three plus years," Mr. Leary said. "We are always looking for creative ways to enhance life experiences at Carroll for our entire community."
Mr. Leary said that when he was a high school student, he had a memorable experience at a Christian Brothers high school and it is his goal for the students at Archbishop Carroll to feel pride in their alma mater as he did his. Mr. Leary said would like for the students, faculty, and staff to have a positive experience at Archbishop Carroll to look back on in later years.
"My plan is to focus on providing the best student experience; whether virtual or in-person, increasing enrollment and getting the alumni base reengaged – particularly our most recent alumni," Mr. Leary said.
Mr. Leary was named to the acting president post in August following the resignation of Frank Fox, who was the school's president for seven years. Mr. Fox left to become chief executive officer of the American arm of a British cybersecurity firm, according to a statement released by the Archdiocese of Philadelphia.
Mr. Leary most recently held a position as chief operating officer of Dechert, LLP, a global law firm based in Philadelphia, with 1,000 lawyers and 26 locations, representing corporations, financial institutions, sovereign states, private and high-net-worth individuals, from 2014 until his retirement in 2018. At Back to School Night, parents and students at Archbishop Carroll got the opportunity to meet Mr. Leary and hear about the future plans at Carroll.
"I was introduced to Mr. Leary at back to school night and it seems like he has the same goals as many parents," said Clarissa Smith, a parent of a Carroll student.
"It was a surprise to see Mr. Fox go, but I'm excited to see the changes at Carroll and how Mr. Leary and the school board handles activities," said Anna Winslow, a student at Archbishop Carroll.
Faith and Future, the Office of Catholic Education, and the Archbishop John Carroll High School Board of Directors will continue the national search for a permanent president. Mr. Leary intends to keep the position for as long as the Archbishop Carroll School Board and the Archdiocese of Philadelphia would like him to.