COVID-19 boosts online shopping and new internet-based businesses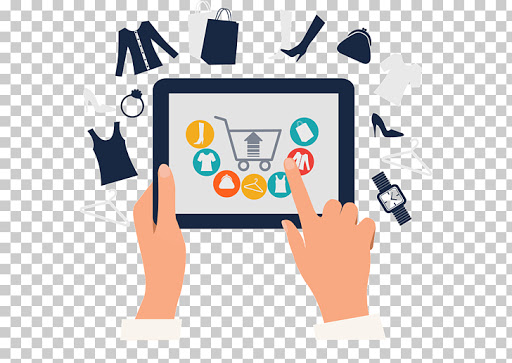 Technology is constantly changing and gaining more popularity especially because of COVID-19, One of the many benefits of technology is online shopping. During the pandemic, online shopping has gained more popularity because of people being stuck at home and brick-and-mortar stores being closed. That trend has led some to open their own online money-making ventures.
Because of the coronavirus, 42 percent of the US population bought groceries online in March 2020, nearly double the 22 percent of the population that bought groceries online in 2018, according to China Internet Watch. 
Online retail stores help business owners because online stores are open 24 hours a day and can be reached by people who live farther away. Many people find that online shopping is easier because many retail stores are unreliable when it comes to the availability of clothes, according to The New York Times. Many stores only have a few sizes in-store and usually run out easily. 
"I personally prefer online shopping because many times stores don't have my size and it's just more convenient for me because I don't own a car," said Tanya Smith, a relative to a student at Archbishop Carroll High School.
Businesses like DoorDash and UberEats are also beneficial because they give restaurants more business and are a way for people to make extra money.
Small online businesses have been on a rise since the start of COVID-19, according to The Washington Post. Resources like Amazon, Etsy, and Instagram have been an outlet for small businesses to make money during the pandemic.
"When I lost my job because of COVID-19, selling custom masks online helped me stay afloat," said Katie Jones, a relative to a student at Archbishop Carroll High School.
Ms. Jones is not alone in turning to the internet to make money.
"It's remarkable to see the speed at which small businesses across the country have adapted. Being unable to trade in the traditional sense has been a catalyst in driving digital transformation and where one door has closed, this nation of shopkeepers has forced another to open," said Tom Gatten in an article on SME News. Gatten is the CEO of Growth Intelligence, which is a company that helps high profile brands, including American Express, FedEx and Western Union, maximize their marketing efforts online.
"Thousands of businesses are making the most of the tremendous opportunity that growing demand for online shopping is creating," Gatten said. "While our data show a very slow return to what we previously considered 'normal', the new environment is opening new markets and this will reinvigorate the economy."