Senior boys soccer players honored during La Salle game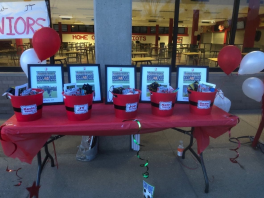 Despite this year being a little crazy in the Philadelphia Catholic League because of the coronavirus pandemic, Archbishop Carroll teams are still dedicated to making their seniors' last season special. On Thursday November 5, the Carroll boys soccer team honored its seniors during the team's game against La Salle College High School. 
Despite their best efforts, the boys lost 5-0 in a tough fight against their opponent. The boys started strong, ending the first half of the game 0-0. They fought a hard battle in the second half, but ended up taking the loss. 
"The game didn't go our way but it was a night to remember," said senior midfielder Sean Bruce, who expressed his love and his appreciation for his team.
Senior goalie JT McNally talked about how much he will miss the team next year and how close he has become with everyone, despite this year being his first on the team.
"Even though we lost it was still fun," McNally said. "We had a good team this year. We always made each other laugh and I'm definitely going to miss it next year. I'm blessed that I was given that opportunity." 
The underclassmen chipped in to buy all nine seniors gifts.
The game originally was supposed to be against Phoenixville Area High school, but had to be moved because of a scheduling conflict.