Joel Embiid dominates the Boston Celtics after returning from injury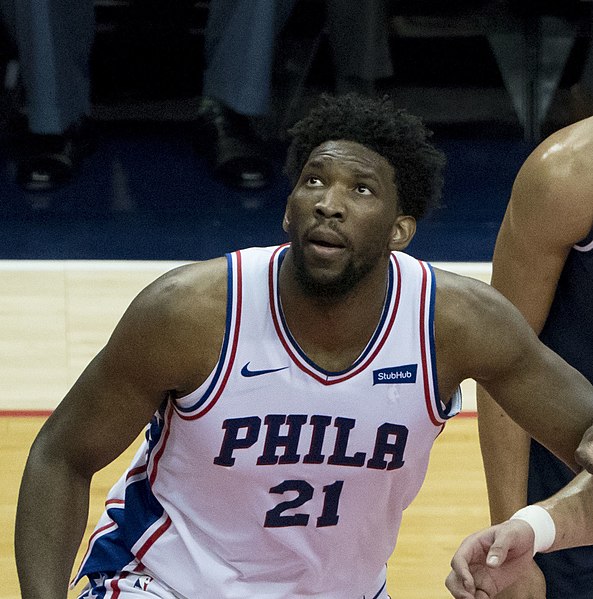 After Joe Embiid suffered a knee injury a few weeks ago, Sixers fans were uncertain how he would perform after his return. Embiid put those worries to rest in Tuesday night's game against the Boston Celtics, silencing those who doubted him and helping his team to log a win.
Embiid was hurt on March 12 when the Sixers played the Washington Wizards, one of the worst teams in the Eastern Conference. Embiid got on a roll early, amassing 23 points and seven rebounds by the third quarter. After going up for a slam over the Wizards' little played guard, Garrison Matthews, Embiid landed awkwardly and seemingly hyperextended his left knee, although further tests determined that he had instead suffered a bone bruise. This injury would pause his MVP season for about three weeks.
"When I got hurt and was laying on the floor in Washington, honestly, I thought I was done," said Embiid in a postgame press conference, per ESPN. "The pain, how bad it was hurting, I just knew it was something worse than we saw after. . . I was just crying and asking myself 'why me?'. . . When everything seems to be going well with the team and myself, something always has to happen, and I'm glad that it wasn't anything bad. I'm able to get back on the court and help the team go on this championship run."
This week's game against the Celtics was nothing short of a comeback game for Embiid, as he elevated the team's defense and provided his usual 30+ point performance. Despite Embiid's 12-point first quarter performance, the Jayson Tatum-led Celtics were able to keep up with the Sixers, with the Sixers clinging to a 1-point lead after the first quarter. In the second quarter, the Sixers defense – anchored by Ben Simmons, who is currently second in the NBA's Defensive Player of the Year standings – forced Boston turnovers on what seemed like every trip down the floor. Although Tatum sparked an 8-0 Boston run towards the end of the first half, his efforts were met by 11 straight points from Danny Green, who gave the Sixers a 13-point lead at halftime. 
From that point onward, the Sixers kept their foot on the gas, leading by as many as 20 at some points, and ran away with this one thanks to Embiid's continuing dominance in the paint and the team's overall defensive success. In an attempt to slow Embiid down, the Celtics futilely draped players like Robert Williams (fouled out in 14 minutes), Luke Kornet (slight frame easily backed down by Embiid), and Tacko Fall (tall but non-threatening) onto the low block, unintentionally giving Embiid a fast track to the free throw line, where he would drain 16 out of 20 attempts. Tatum finished with a Celtics-leading 20 points, but everyone in a green uniform had a rough night to say the least. The game resulted in a 106-96 Philadelphia win, completing the regular season sweep over Boston for the first time since 2001.
"Jayson Tatum, you got paid the big bucks!" criticized retired Celtic/current NBA analyst Kendrick Perkins on Twitter, "You have the body language and energy level of an underpaid player and it's hurting the team. Time to step up and live up to your role, straight up. Carry on…"
In Philadelphia, no matter the occasion, games against Boston are always a must-watch. This game was no different, and it gave Sixer fans everywhere a chance to see the fan-favorite Embiid dominate the Celtics with a 35-point performance, while picking up a key win to keep pace with the Brooklyn Nets.
"Walking out, [Embiid] said to me, 'I'm back,'" 76ers Head Coach Doc Rivers said in a postgame press conference via the Sixers website, "I said, 'Yeah, I noticed.'"