Father Cavara and Carroll students share views on the secularization of Christmas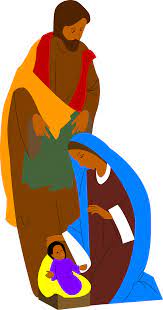 In today's culture, Christmas has become a huge business opportunity for many corporations and companies to make money and many believe Christmas is becoming less religious. 
Archbishop Carroll's school priest, Father Mark Cavara, said Christmas becoming secular is inevitable and said he can appreciate all aspects of the holiday season. He even mentioned that his favorite Christ movie is "A Charlie Brown Christmas."
"That just comes with people losing the purpose of what Christmas is about, which is preparing the way of Jesus Christ," Fr. Cavara said.
According to Fr. Cavara, the festivities of the Christmas season are supposed to add to the coming of Jesus, not distract. He said all the lights are nice but it distracts people from strengthening their relationship with Christ.
"The problem is when these things are supposed to add to the celebration of Christ, it can't actually be the entire celebration, which is why most people feel empty around this time of year," Fr. Cavara said.  
Fr. Cavara clarified that he isn't anti-corporation but he says money has become the center of the holiday. 
"When the holidays become centered around profit and pleasure, no wonder people feel empty," Fr. Cavara said. 
 Fr. Cavara said it's possible to make Christ the focus of Christmas again. 
"It's about being open to the spiritual reality and also be open that there are lot of other religious holidays around this time," Fr. Cavara said. "There's nothing wrong with saying Happy Hanukkah as a Christian."
Senior Christian Toglia is in agreement with  Fr. Cavara but also understands the other side.
"Christmas is originally about the birth of Jesus Christ and it should always be kept like that from a religious standpoint,"  Toglia said. 
Though Toglia is a religious person, he said commercializing Christmas opens the doors to non-Christians.
"Everyone is able to celebrate and come together," Toglia said. "It spreads the message at the same time and that's a pretty beautiful thing."
Sophomore Lisa Wallon said that she doesn't mind that Christmas is becoming more secular. 
"I do recognize that the entire reason we are celebrating but it makes me happy to see families of all backgrounds, ethnicities, and religions coming together," Wallon said.
She goes on to say that it's easy to feel lonely during the cold winter but Christmas gives people something to look forward to.
"I have many nonreligious, Muslim, and Hindu friends that take advantage of the break and get together with their families," Wallon said.