Christmas presents: The good, the bad, and the wacky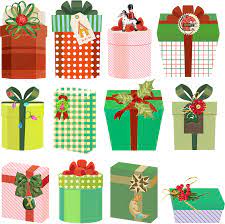 Christmas is a holiday full of giving and receiving presents, so some Carroll students and faculty shared some of the best and worst presents they've received. 
"My favorite gift I've ever received was the record player I got last Christmas," said Samantha Rock, a junior. 
Last Christmas 27.5 million record players were sold nationwide, showing a substantial growth and popularity for the last 16 years, according to The Whit Online. 
Rock received her worst present a year before receiving the record player. 
"The worst present I received was literally dollar store soap," said Rock. 
For one person, a favorite Christmas present was an experience rather than an object.
"The first year I was dating my husband, he surprised me with a plane ticket to go visit my best friend in Texas," said Mrs. Diane Gimpel, an English teacher. "It ended up being even better because a snowstorm hit, and I wasn't able to fly home, so I got to stay an extra couple of days." 
The worst gift Mrs. Gimpel mentioned wasn't for her — it was for her brother. 
"When I was younger, my great aunt, who worked at a department store, would buy an employee gift grab bag and use the presents inside of that to give to her nieces and nephews," said Mrs. Gimpel. "One year my brother was so excited because she gave him a cool race track, but there was one problem: it was missing the part that made the track operate. The toy was basically useless." 
That happened in the 1970s. Nowadays, it's not race tracks but electronics that get kids excited.
"The best Christmas present I received was two MacBooks," said Peter Trinh, a junior.
Out of all the Apple products sold, Apple MacBooks are one of the highest selling according to statistics.com. Over 70 million Apple products are sold every Christmas, making them one of the purchased options to put under the tree, according to CNBC. In addition to MacBooks, these products include phones, watches, and iPads. 
"The best gift I've ever received is my iPad I got a couple years ago," said Gabriel Petrecz, a junior.
That gift ranked far higher than another present Petrecz remembered getting when he was in elementary school.
"One Christmas I remember getting real construction tools, when I was like ten," he said