Carroll students tackle their resolutions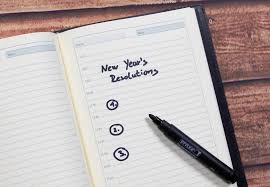 With the new year comes New Years' resolutions that are ultimately never fulfilled. The jury is still out on whether Archbishop Carroll students will be able to break this cycle of unfulfilled ambitions.
Some students were a little embarrassed to reveal their progress. One junior spoke about the marginal progress she has made in reducing her candy intake.
"It's a little sad but I resolved to eat healthier because I only eat candy," said junior Brooke Quigley. "I've already eaten a Reese's bar, a Lindor, and some fruit snacks so it's not going so great."
A sophomore described the challenges he has faced in fulfilling his resolution every day.
"It hasn't been going so great so far because of the weather, but I'm determined to get back to it," said Lowell Kamanousa.
A junior spoke about the difficulties she has faced trying to change her sometimes pessimistic outlook.
"My goal this year is to be more positive," said junior Katrina Trimble. "I know it sounds so easy and cliché, but it's always the things that sound the easiest that are the hardest to do. I definitely feel like it would go a lot better if I wasn't so stressed out with everything going on in my life but it's whatever."
While some students were hesitant to admit how their resolution was going, others were proud to reveal their progress. 
"My only New Years' resolution this year was to learn how to do a pushup," said junior Samantha Rock. "I can do about three in a row right now but I want to be able to do 10 without stopping."
Unlike her candy-loving twin, junior Paige Quigley was rather optimistic about her resolution despite currently suffering from an injury that has prevented her from making any progress.
"My resolution was to improve at the violin," she said. "I'm currently injured from repotting my plants this past weekend, so no progress has been made so far. However, once I've recovered we'll be back in business."
A freshman that although she hadn't made a specific resolution, this year has been going in her favor nonetheless.
"I didn't make any official resolution," said Shannon McGee. "But I just want to be happy and hang out with my friends. So far it's going well and I'm especially excited for the upcoming spring show — it'll be a good opportunity to be together in a group setting again in a time where group settings aren't the norm."