Met Gala 2022: Carroll students weigh in on the best dressed and worst dressed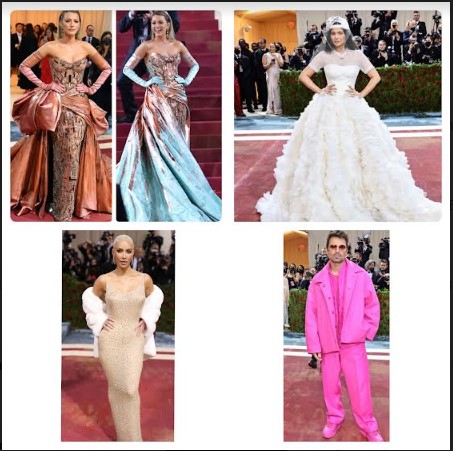 Actress Blake Lively got high marks from Archbishop Carroll students who weighed in on celebrity fashions from the Met Gala, while A-list celebrity attendees like Marvel actor Sebastian Stan earned lower grades.
The gala, held May 2, is an annual event hosted by Vogue Magazine at the Metropolitan Museum of Art in New York City.  To honor the gala's 2022 theme — In America: An Anthology of Fashion — men were asked to wear white tie and women were asked to wear "gilded glamour." The theme was meant to channel the extravagant fashion from the late 1800s, according to People Magazine. 
Lively, who gained fame from playing Serena van der Woodsen during the six-season run of the teen drama Gossip Girl, wore an Empire State Building-inspired Versace gown. The crystal embellished gown had a metallic leather train and bow that transformed from copper to green as a homage to the oxidation of the Empire State Building, according to an interview Lively did with Vogue's La La Anthony. She dressed according to the architectural design during the Gilded Age, according to Glamour Magazine, although the Empire State Building was constructed in 1930, at the beginning of the Great Depression and long after the Gilded Age.
"Blake was on theme and she looked glamorous," said Cassandra Pendleton, a junior. 
The least favorite picks of some Carroll students included Stan, Kim Kardashian, and Kylie Jenner. 
Stan, best known for his role of Bucky Barnes in the 2014 flick Captain America: The Winter Soldier, was dressed in an all pink monochromatic Valentino design that included a bomber jacket and pants, according to People Magazine. 
Pendleton put his look on the bottom of her list. 
"He looked like a highlighter," she said. "It was not on theme." 
Kardashian's Met Gala look stirred up controversy at Carroll and on social media. 
Kardashian wore the body conscious, crystal encrusted dress that actress Marilyn Monroe wore when she sang "Happy Birthday" to President John F. Kennedy in 1962. The dress cost $5 million when Ripley Believe It or Not Museum bought it in 2016 and is valued at $10 million today, according to Attractions Magazine.  Some people thought it was disrespectful for anyone to wear the iconic dress. 
Junior Catherine Manzo agreed. 
"I don't think anyone else is really fit to wear Marilyn's dress other than Marilyn herself," said Manzo.
Kardashian's younger sister, Kylie Jenner, also garnered criticism for wearing a wedding dress with a baseball cap, according to Page Six. The fluffy white confection from Off-White did not seem to respect the gilded glamour theme, but Jenner told Cosmopolitan she decided to wear the frock to honor Virgil Abloh. Abloh, an American designer who founded the Off-White luxury label, died last year of cancer.