Jobs and travel will occupy Carroll students this summer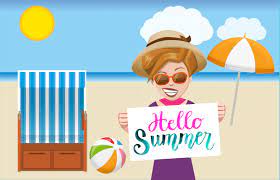 Many students at Archbishop Carroll have summer plans for 2022 that consist of working and traveling. 
Most students interviewed in an informal poll plan to fill their free time over the summer with a job. They said they like having a job because it gives them something to do during the day and allows them to earn their own money. One student interviewed said she is working three jobs this summer to save for a car and college. 
"I work with kids in the summer and I teach them how to play sports," said junior Kate Swayze. 
 Other people at Carroll are excited to let go of their school responsibilities and get out of their houses to travel the world.
"I am going to St. Lucia for a week so that's what I'm most hype for," said junior Jayden Wintrode. 
After pushing off traveling plans for over two years, many families are ready to return to a sense of normalcy. Some people are finally following through with pre-pandemic planned vacations. 
"I'm excited for spending time with my family … [on] my cruise," said junior Nancy Truong. 
Besides traveling and working, Carroll students are looking forward to spending time on the beach or around nature. Some even have the opportunity to work with nature over the summer. 
"I'm working at Valley Forge Flower Shop, " said junior Peter Trinh. 
Although most of the classes at Carroll are excited for the summer to arrive, some of the current juniors are afraid about what the future holds for them as seniors. 
"I can't believe we're going to be seniors," said junior Lindsey Davidson. 
The seniors at Carroll had their official last day of in-school instruction on June 2. Now juniors are the leaders of the school. There are a lot of mixed emotions among the junior class about their new leadership position and seeing their senior friends leave.