Catholic Schools Week begins Jan. 29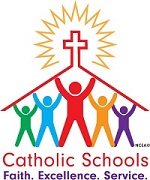 Next week Archbishop Carroll, as well as Catholic schools across the country, will participate in Catholic Schools Week, an annual event that began in 1974.
The highlight of Catholic Schools Week at Carroll will be a Mass on Thursday officiated by Archbishop Nelson Perez, who heads the Archdiocese of Philadelphia. In addition, students will have shortened classes Friday so they can gather Friday afternoon for a Catholic Schools Week assembly. 
Catholic Schools Week highlights all the best parts of Catholic education and shows the importance of receiving an education rooted in faith. 
"There has always been a very large Catholic community in the Philadelphia area and the offering of education to students through history actually ran through the church and other religious organizations prior to public education becoming so prominent," said Mr. William Gennaro, the Carroll's principal. "Having a place where one can earn a quality education and also tie it into their faith, or to a faith, whether through a theology class or other lessons or activities, is very important."
For many young people, the choice of school is a choice between a public education and a Catholic education. Catholic schools not only provide structure for their students that will set them up for success in their future careers but also show students the importance of maintaining a faith life. 
"I chose a Catholic School for the uniformity and discipline that is instilled in us every day," said junior Sienna Golden. "We learn how to practice our faith in many different ways while becoming better versions of ourselves."
Catholic schools offer so many opportunities for not only students but for the faculty as well. Working at a Catholic school allows teachers and faculty to connect with each other and their students through their faith, and also allows them to attend mass regularly. 
 "I like teaching at a Catholic school because I can share my faith with my students," said Mr. Ronald Cummings, Carroll's engineering teacher.