Seniors reach 100 days before graduation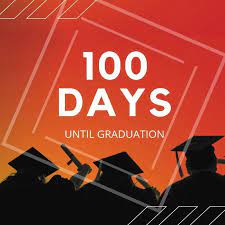 On Feb. 28, Archbishop Carroll's seniors began the final stretch before their high school careers come to an end as they celebrated reaching the 100-days-until-graduation milestone.
As they celebrated with a student council-sponsored party during 7th and 8th periods in the East Gym with food, fun, and friends, some seniors said that it's time to close the book on their high school lives.
"It's bittersweet but I think I'm ready to go," said Mary Matey. 
Taylor Wilson said she is ready, too.
"It's going to be a big change but I think that we were all prepared really well so that we'll be able to succeed," Wilson said.
Jillian Dempsey said she's excited for graduation and what comes after it. 
"I'm happy because I'm ready for summer and new experiences," Dempsey said.
While some seniors may be excited to go, not everyone is happy they will be leaving. 
"I'm gonna cry," said Mr. Louis Valenti, who teaches senior theology. "This class is the best class I've had at Carroll in my 14 years and the class is in my top four classes of all time."