Once Upon a Mattress is coming to Carroll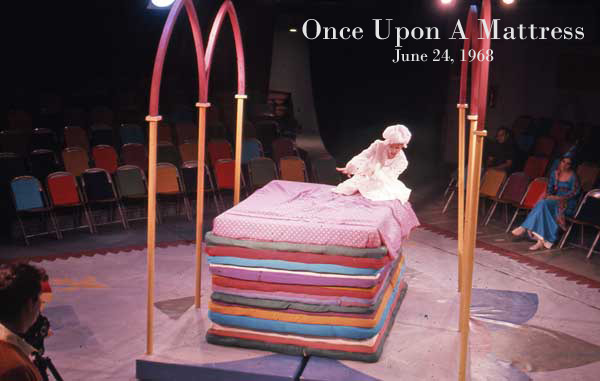 Once Upon a Mattress will be performed by the Archbishop Carroll Theater Society (ACTS) for two weeks starting April 24.
Once Upon a Mattress is based on the children's fairy tale by Hans Christian Andersen called The Princess and the Pea. Princess Winnifred, who sleeps on top of 20 mattresses, entertains the audience along with with Prince Dauntless, who puts a pea in one of the mattresses as a test. If Princess Winnifred feels the pea, she will be allowed to marry Dauntless. 
Once Upon a Mattress was a one-act play written by Dean Fuller and Jay Thompson, with music by Mary Rodgers. They originally named it Princess and the Pea, but soon renamed it Once Upon a Mattress and performed at several famous Broadway theaters. The show's second director, George Abbott, discovered Carol Burnett, placing her in the lead role. Burnett ended up performing in all 460 performances and she went on to a successful career in movies and television.
The show is ranked among the top five shows licensed from Rodgers and Hammerstein Theatricals with more than 300 productions. It was nominated twice for the Tony award for the Best Revival of a Musical.
The musical was chosen as Carroll's spring show with help from students.
"Previous to my tenure, the shows were often chosen by the director," said Ms. Meghan McNamara, who became the school's theater director this year. "Part of my process has been to allow students to propose shows to gather more information about what the students are interested in."
One reason Ms. McNamara likes the musical is because many students can participate in it.
"One of my favorite things about Mattress is the number of open roles," Ms. McNamara said. "There are also many featured roles with several singing and dancing soloists."
Sara Doorly, a senior at Archbishop Carroll, is the show producer and part of the ACTS Executive Board, is excited about working on Mattress. Working on school musicals is stressful, Doorly said, but, in the end, "the shows always feel so unreal as to how much happiness I get from them. It is so much fun and I never regret doing any of them and it is the best experience of my high school career."
Doorly said she loves ACTS "because singing, dancing, and acting are what I am passionate about. My favorite part of ACTS is how close the cast gets and the love we have for each other." 
Andrew Noyle, who is a 2018 graduate of Carroll,  performed in Once Upon a Mattress at Merion Mercy Academy. Noyle said that he had a great experience and is glad that he did it. Noyle encouraged other students to try out for ACTS shows.