The show must go on (hopefully)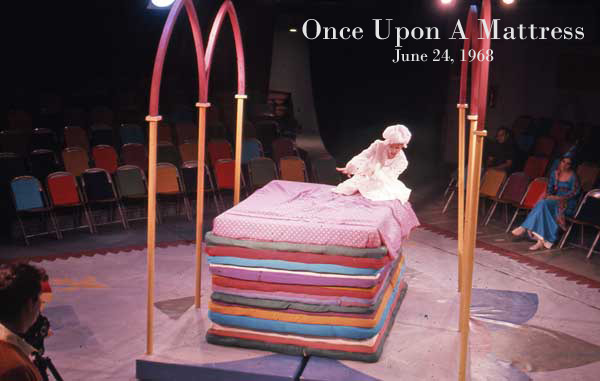 Although the coronavirus pandemic is affecting the whole world, forcing schools and businesses to shut down and people to stay at home, the actors and actresses of Archbishop Carroll's spring musical, Once Upon a Mattress, are using their creativity to ensure the show will go on.
The Archbishop Carroll Theater Society (ACTS) has been working diligently for the past few months preparing two weeks of performances of the Broadway smash hit.  The show is scheduled to be performed by the ACTS group on April 24-26, April 30, and May 1, 2 at Archbishop Carroll.
As a result of the school building being shut down since March 16, the ACTS members joined in a Zoom meeting March 26 to discuss the future of the show. The show's director, Meghan McNamara, suggested perhaps having the show outdoors and having a senior cabaret only for the seniors.  
The creative ideas being contemplated by the director are matched by the creative ideas of the performers, who have to rehearse while staying at home.
"I am running lines with one of my siblings," said senior James Buentello, who plays Sir Harry. "I'll have one of them read the other parts and I'll rehearse my lines. I haven't gotten a chance to practice with Lady Larken [played by Tori O'Donnell] recently, but I have gone over lines using my siblings in her place. The most difficult part is not having the right space to practice movement and blocking, and it's also really hard not being with the director, Meg, and the other actors."
Blocking is the movement of each character on stage. An important aspect of the performance, blocking requires the cast to be together in one place.
"I miss the cast a lot," Buentello said.
Alexa Tarasca, who plays the Jester, said she is "going over lines, visualizing the dances, singing instrumental tracks, and reading the blocking." Tarasca said the cast is planning to go over lines during a FaceTime group call.
"The most difficult part is not being with everyone!" Tarasca said. "Not only do I mess being with friends and cast mates but it's also easier to learn lines when we're able to do the blocking with everyone in the scene," she said.
The ACTS family is doing everything it can to ensure the show will go on!