Sports announcing at Carroll gets new faces — and voices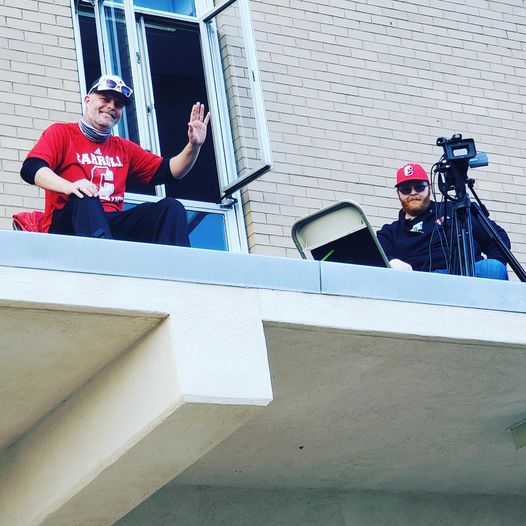 With Mr. Barry Kirsch out for the semester, new announcers have stepped up to call the plays at Archbishop Carroll's sporting events.
Mr. Ed Scanlan of the social studies department was the play-by-play announcer for the girls soccer senior night and boys soccer senior night. He also has handled announcing duties for football.
"I feel that I was born to be an announcer," Mr. Scanlan said. "I have a great voice and face for radio." 
Mr. William Gennaro, the assistant principal for academic affairs and an AP English teacher, has been the play-by-play announcer for football lately, with Mr. John Woehlcke, an English teacher, doing the color. 
"My initial degree in college was in communications from Temple University," Mr. Gennaro explained. "The field of journalism and broadcasting was what I mainly studied, and I really enjoyed it. I helped do a little producing of sporting events during my time at Temple, but ultimately chose to switch careers to education, which I enjoy even more than I did communications. Getting to do the first game … and then getting to do possibly more games in the future just allows me to make use of my first degree while supporting our students!"
Mr. Gennaro announced the first half of the homecoming game and announced the Carroll vs. Archbishop Ryan football game on Oct. 17. He called the play-by-play for the Halloween game Carroll played against Neumann-Goretti as well as the Patriots' recent state playoff win against New Hope-Solebury. Mr. Woehlcke, a former football coach, worked side-by-side with Gennaro, offering color commentary.
Mr. Gennaro said he doesn't know how many games or how many sports he will announce.
"Right now, I am just helping to fill a need and will be happy to continue doing it if we continue to live stream more sporting events," he said.